A long-established owner of Kyoto who was involved in the return of Okinawa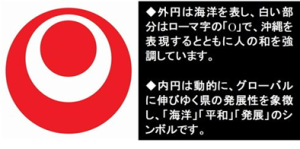 The outer circle represents the ocean, and the white part is the Roman letter "O", which represents Okinawa and emphasizes the circle of people.
The inside of the circle dynamically symbolizes the development of the prefecture, which is growing globally, and is a symbol of "ocean," "peace," and "development."
Okinawa prefecture chapter created by Mr. Yaichiro Nishizawa (1914-1989) from Kyoto city
Congratulations! 50 years since the return of Okinawa !                                                                                                                                                                                                                                                                                             
                      Yoshie Doi
It's been 50 years. Half a century has passed. It has been 50 years since the return of Okinawa. Fifty years ago, I was close to a friend from Okinawa. She was a beautiful woman with big eyes. I remember 50 years ago. At the time of the return of Okinawa, the prefectural emblem of Okinawa Prefecture was produced by Mr. Yaichiro Nishizawa (1914-1989, the 11th generation of the kimono industry that has continued since the 3rd year of Genroku (1690)), who lives in Kyoto.
Currently, the 12th and 13th generations are working to inherit the spirit of Yaichiro Nishizawa and pass on the Kyoto culture to the next generation. I am looking forward to future activities based on the Nishizawa family's Kyomachiya.
I got to know with Okudo-san (Kamado) related event (Okudo-san Summit) and have been interacting with them. Based in Kyoto Machiya, we plan to continue to disseminate the culture of Kyoto life through the kimono industry.
Mr. Yaichiro Nishizawa also studied under Seiho Takeuchi and seems to have learned design. While inheriting the tradition of the kimono industry that has continued since the Edo period, after graduating from Kyoto Municipal Arts and Crafts School( Kyoto City University of Arts) , he became interested in graphic design and joined the design section of the Kyoto Dyeing Experiment Station. ・ Many admission tickets for temples in Nara and posters for companies were produced.
After the war, he designed posters that promote national policies in an easy-to-understand and visually appealing manner, and in his later years, he created the Okinawa Prefecture Chapter in 1972 as the culmination of his work.
As a citizen of Kyoto and a citizen of Kyoto, we are very proud and happy that the kimono industry, which has continued since the Edo period, designed the Okinawa prefecture chapter.
The end of document