I think about the 122nd birth anniversary of Professor Yasunari Kawabata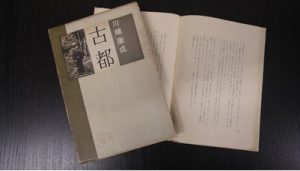 The first edition of "Kyoto" published on June 25, 1958, priced at 350 yen.
I am reading novel"Kyoto" under the remember of Professor Yasunari Kawabata, who was born 122 years ago on June 14th 1899. As the first Japanese to win the Nobel Prize in Literature, "Kyoto", in which the city of Kyoto plays a leading role, brought out the charm of Kyoto and taught us. It is also an excellent guide book for Kyoto.
I am impressed by the fact that Kyoto is expressed in colors every season. The scenery of the state from Kamo river to the mountainside and the state of the townhouse are beautifully drawn by Kaii Higashiyama in "Kyoraku Shiki". He had begged to Mr. Higashiyama and he requested to Higashiyama's cooperation, "Kyoto will disappear if you don't draw it now. Please draw it while Kyoto will be in Kyoto." Kyoto citizens who live looking at the mountains every day are sensitive to the colors of the mountains. that change over time every day. I think that here is the foundation of Kyoto people's aesthetics.
This "Kyoto" first edition book has a monotone binding and feels like it represents of Kyoto. The town of Kyoto is very comfortable with the monotone vermilion torii gate, the waterside of the Kamo river and Katsura river, and the greenery of the mountains of Higashiyama and Nishiyama. Dr. Kaori Kawabata thoughts from Yasunari Kawabata's the Nobel Prize-winning speech "Japan the Beautiful and Myself", and Dr. Yasunari Kawabata said, "Even if a person dies, nothing remains, but nature remains as it will be. He thinks how to take over Yasunari Kawabata's challenge . " (Kyo Suzume School, Kyoto loved by Yasunari Kawabata, 2008)
How about imagining Kyoto drawn by Professor Yasunari Kawabata and painter Kaii Higashiyama in June of Kyoto?
The end of document