Extraordinary in Kyoto Beloved Hotel Management Strategy and Cuisine Ryokan Shiraume and Hilton
Yoshie Doi
| | |
| --- | --- |
| Cuisine Ryokan Shiraume | ROKU KYOTO ,LXR |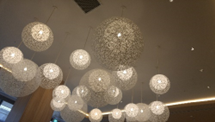 Hilton Garden Inn
Kyoto Shijo Karasuma lighting woven with bamboo
What is commonplace in Kyoto may not be so in other regions. The long-established stores in Kyoto are well aware of this fact, and do business with the understanding that they should not be too far forward of others. What about other regions?
For more than 10 consecutive years in the Kyoto ryokan, hotel, and lodging industry on Trip Advisor, Ryokan Shiraume has topped the ryokan category. In 2022, it is ranked No. 1 in Japan and No. 15 in Asia. (Traveler's Choice Best of the Best) Ms. Tomoko Okuda, proprietress of Shiraume, says, "A ryokan is not an accommodation business. It is a facility that provides an extraordinary place."
The ryokan is an attractive space that was devised by connecting three former teahouses, and the gentle hospitality of the proprietress creates a warm and relaxed atmosphere. You can enjoy the relaxed feeling of the original Kyoto.
Why do we feel warm when we enter the room? I'm sure the room is filled with the feeling of welcome. Everyone who visits feels this way. The room is comfortable even though it is not so luxurious.
For people in Kyoto, things are normal, but from the perspective of people overseas and other regions, there are things that are of a different dimension.
It is said that a ryokan is a place where you can experience this different dimension as a matter of course in Kyoto. It saddens me that the townscape of Rakuchu has changed so much that the roofs of traditional Kyoto townhouses are no longer visible. If you check it from the roof of a skyscraper, you'll understand.
In the midst of this, we can see the scenery of old Kyoto from the window on the second floor in Shiraume. Am I the only one who feels calm when looking at the scenery?
Changing the subject, there are two Hilton hotels in Kyoto as of January 2023. Another one will be born in Kyoto in April 2024 next year. ROKU KYOTO, LXR Hotels & Resorts and Hilton Garden Inn Kyoto Shijo Karasuma (HGI). Hilton Garden Inn is the first landing in Japan. Hilton Kyoto, which will be born in April 2024, is scheduled to open in Kawaramachi Sanjo.
 We visited two hotels. Since I live in Kyoto, I visited the restaurant and enjoyed ROKU KYOTO, LXR last year and the Hilton Garden Inn on this month, which opened in November last year.
Hilton is a long-established foreign-affiliated store that entered Japan in 1963, and is a brand that is familiar to Japanese people. We operate more than 6,700 hotels (1 million rooms) in 122 countries and regions around the world. In Japan, there are about 20 stores, mainly under the Hilton brand. I was very interested in the hotel that opened in Kyoto. As expected, we had a very satisfying time.
Even during the corona crisis, they have opened 10 new hotels in Okinawa, Kyoto, and Nagasaki. They have adopted a management strategy that is different from that of the Japanese hotel industry.
In Kyoto, the number of newly opened hotels is on the decline, and due to factors such as soaring land prices, some lodging companies are closing down or selling. It's different from Hilton's long-term strategy. It is likely that the opening will be based on the assumption that inbound demand will recover quickly.
I heard from the staff that Hilton's hotel business is "not a room rental business, but a desire to spread the charm and culture of the local area.
In addition, it is a hotel that develops and disseminates tourism resources such as history, culture, and food in cooperation with local stakeholders. I was happy to hear from the staff that they wanted to spread the appeal of the local area in addition to renting a room.
The end of document