A new famous place for chocolate is born in Kyoto! Direct sales store for beans to bar
Yoshie Doi
As a chocolate lover like me, it's a happy opening. A new famous place for chocolate was born in the Sanjokai shopping street in Horikawa Sanjo. This is Premarché Cacaolate Lab. Pre-opened on January 3, 2023. https://cacaolate.com/
It's a cocoa that has a different dimension of deliciousness and a healthy body and mind. Organic chocolate that maximizes the original taste of cacao is made in the workshop behind the store, and you can see the manufacturing process through the glass. You can see the manufacturing process from cacao beans to chocolate bars.
Prema is made with the concept of "Creating medicine for the mind". http://www.prema.co.jp/
You can enjoy chocolate and gelato that are healthy, made in Kyoto, and carefully made. Eating chocolate reminds me of something. About 5 years ago, I had the opportunity to drink the best coffee at a coffee bean world competition in Brazil. There was a person who specially purchased it and imported it to Japan. The coffee was a different dimension of deliciousness, and it was mellow like wine. I remember that time. The taste that I thought was chocolate and common sense has been repainted. It's the same with chocolate.
The chocolate was made by Nobuo Nakagawa, who has won prizes three years in a row at the world gelato competition in Italy, so the taste was special. Just like Kyoto cuisine, which draws out the goodness of the ingredients, the aesthetics of subtraction allows you to enjoy the essence of pure chocolate. It is also recommended that you do not include unnecessary items.
Nearby is Nijo Castle, which is related to Tokugawa Ieyasu in this year's Taiga drama.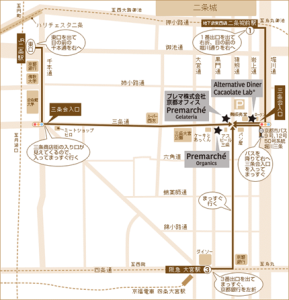 The end of document